Procrastination is of course bad when trying to finish a PhD, but it's good when it's about new features for ALOE

So we now have a nice, fancy and interactive "spherical tag cloud" to display popular tags in ALOE. I'm not sure whether it's really useful, but who cares, it's fun and it's definitely an eye-cather! The spherical tag cloud was realized with a repurposed version of the great WP-Cumulus WordPress plugin by Roy Tanck - check out his blog for more information on how to repurpose his code.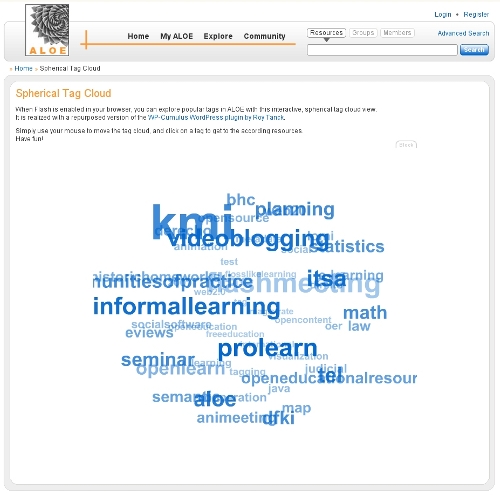 Furthermore, we've put a lot of effort in the creation of an install script that allows to deploy instances of ALOE in a more convenient way. Setting up the different components and setting the parameters manually was always quite a lot of work. It runs smooth now, so the updated OPENEER instance should be available this week!
What we also did was to create a small tool that allows for the batch contribution of resources defined via bibtex (or, to be more precise: via BibTeXML that was created with the JabRef reference manager). It's done with our perl SOAP client, and once we found out why SOAP::Lite doesn't want work with parameters defined in UTF-8 (everything works fine until you dare to use something like an "ä" or "ü"), we'll be really happy. Hints are VERY MUCH welcome!